by Matz ~ January 7th, 2013. Filed under:
Matz on Sports
.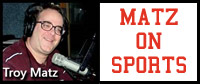 Wrestling: Baraboo finishes second behind Middleton in the final team standings at the Baraboo Thunderbird Classic. Individual champions included Andre Mayllen at 132 and Kolt Bode at 145 while Trevor Hanson, Ely Flesch, William Pierce, Riley Fichter, David Gale, Hudson Greenwood and Jeremy Bowers all had top three's for Baraboo.
Sauk-Prairie wins the team title at the 18-school Sauk-Prairie Eagle Invite-Eddie Smith, Austin Fjoser and Gavin Halverson all win individual titles for Sauk with Austin Powell, Brandon Sprecher, Jared Schaaf and Caleb Sisbach all had top three's for the Eagles. River Valley placed seventh with Joe Crook and Seth Liegel winning titles for the Blackhawks.
Portage earns sixth place in the Verona duals with wins over Verona and Greendale
Boys Hockey: Baraboo-Portage 8 Pacelli 1-Adam Stanton scored two goals for the Baraboo Coop with Sean Mc Cutchin stopping 14 pucks for a Baraboo-Portage team that is 7-3-1 overall.
Friday-RWD 3 Stoughton 2 OT, Jesse Greenwood scores the game-winner with Matt Olson and Jordan Bill also scoring goals with Michael Olson with 32 saves in net for RWD who is now 9-4 overall.
Girls Hockey: BadgerThunder 2 Rock County Fury 2 in Badger Conference play, Courtney Sakry and Kristen South score power play goals for the Thunder. Jamie Dutton makes 19 saves in goal for the Thunder who is now 1-4-1 in league play and 3-8-1 overall.
Gymnastics: Reedsburg 6th, Sauk-Prairie 9th and Baraboo 10th at the ten-team Reedsburg Invite, All-Around-Tommie Brenner of Reedsburg 5th and Jordan Laymon of Baraboo 7th, Brenner 4th in the beam for Reedsburg, Holmen wins team title.
Boys Swimming: Baraboo 4th of seven teams at the College Events Invite in Stoughton-Tanner Craker of Baraboo wins the 50 Free with a second in the 100 Free, Marek Sokolowski places second in the 500 Free, Sam Trotter is third in the 200 Free, Baraboo's 200 Free Relay places third as well, team champion was Mc Farland.
Sauk-Prairie-Wisconsin Heights coop finishes near the bottom of the team standings at the Milwaukee Marquette Invite with no top five finishes.
Dells Ducks Junior Hockey begins tour of college opponents for the rest of this week