by Matz ~ January 4th, 2013. Filed under:
Matz on Sports
.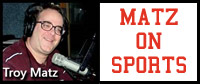 Boys Basketball: Badger North-De Forest at Baraboo, Baraboo is 1-7 overall after a 67-58 loss at Lake Geneva Badger last week. Baraboo rallied from a double digit defecit in the first half and actually took a short lived lead in the third period before Badger surged down the stretch. The 58 points scored was a season best for the Thunderbirds with Ty Schlichtmann scoring 21 points but the 67 points allowed was second highest for the season and the T-Birds were outrebounded by double digits as well. De Forest has lost some close games in the conference with a 1-3 league mark at the present time and 4-5 overall with a veteran group of guards that were part of a State Tournament appearance last year leading the way including Jeff Berry and Brett Minick. 7:30 PM game time at Baraboo High School and you can hear the game live on 99.7 FM and AM 740-WRPQ Radio with Dave Helwig and Terry Kieck with the TV replay set for about 9:30 AM tomorow on My Family TV/43! Baraboo's game postponed at Reedsburg will be played on January 17th.
South-Central-Wisconsin Dells at Wautoma, Dells is 10-0 and the Chiefs have ascended to the top of the D-2 coaches poll this week in the state rankings after a win 72-63 over Portage last week. Dells has won every game by eight points or more and they are 3-0 in the SCC with lopsided wins over Westfield, Nekoosa and Adams. Wautoma is 0-3 in league play including a loss to Adams who was winless in the league a year ago.
Westfield at Mauston-Mauston shares the conference lead with Dells at 3-0 with Westfield 1-2 in the league.
Nekoosa at Adams-Friendship-Both teams are 1-2 in league play.
Scenic Bluffs Conference-Wonewoc-Center at Hillsboro, Hillsboro is 2-1 in league play with a win at New Lisbon and a home win over Cashton with a conference loss at state ranked Royall. Hillsboro is 3-4 overall after two losses in Reedsburg last week against Poynette and Adams. Wonewoc-Center is 3-7 overall and 1-3 in league play after a loss to Royall last night. The TV replay of this game comes your way around 12:30 PM tomorrow on My Family TV/43!
Royall at Necedah-Royall leads the conference at 4-0 but they go on the road to face 3-0 Necedah tonight in a first place showdown.
New Lisbon at Bangor-Both teams are 1-2 in the conference
Brookwood at Cashton-Brookwood is 0-3 in league play with Cashton 1-2
Ridge and Valley Conference-Seneca at Weston, Weston is 0-3 in the conference and winless overall
SWC-River Valley at Dodgeville, River Valley leads the SWC at 3-0 and the Blackhawks are 7-2 overall with six straight wins.
Girls Basketball: Badger North-Baraboo at Mount Horeb, Baraboo takes a perfect 7-0 overall record and a league mark of 3-0 to Mount Horeb. Baraboo has won five of their seven games by 20 points or more and Baraboo is giving up only 31 points per game over the last three contests. Mount Horeb' s lineup was freshman heavy a year ago so the Vikings have more experience this year and the Vikings are 1-2 in league play. Reserve guard Mikayla Turner has been playing well for Baraboo but may be out tonight with an injury suffered last week during the hoilday tourney. Baraboo moves up to the number three spot in the D-2 coaches poll this week, up two spots from last week.
Sauk-Prairie at Waunakee-Sauk is 1-2 in league play with a win over Portage and losses to Baraboo and Mount Horeb but the Eagles are 5-2 overall after a 51-48 win over Westfield last week. Sauk has already topped their win total from all of last season. Waunakee is 1-1 in the conference with the loss coming at home to Baraboo.
Portage at De Forest-Portage is still looking for their first Badger North win at 0-2 but they got a non-league win last week, 54-30 over Wisconsin Dells, for their second victory this year overall. De Forest is 1-1 in the conference.
Non-Conference-Reedsburg at Oregon, Reedsburg improved to 5-1 overall with wins over Waterford and Richland Center last week and the Beavers cracked the top ten in the D-2 coaches state rankings this week at number ten. Reedsburg has struggled some offensively but the defense has been solid and Beth Maenpaa is performing well in the post. Reedsburg is allowing under 35 points per game. Oregon is 1-2 in Badger South and 3-5 overall.
Wisconsn Dells at Lomira-Dells is 4-5 overall but looking to snap a three-game losing skid, scoring under 40 points per game in that three-game stretch with losses to Baraboo, Mauston and Portage,
Boys Hockey: Mc Farland at Sauk-Prairie Coop 7 PM-The Sauk group is 9-6 overall after winning two of three for third place at the Spooner Tournament last week. Luke Mc Elhenie, the states's leading goal scorer, and Matt Streber both had tricks last week to spark the offense and the defense was strong as well with the Sauk coop now 7-1 over the last eight games. Mc Farland has just one win on the season.
Stoughton vs RWD at Poppy Waterman in Lake Delton at 7 PM-RWD is 8-4 after going 2-1 at the Monk's Cheeseburger Classic to win fifth place, outscoring their opponents 11-9. Stoughton is 8-4-1 overall and near the top in Badger South.