by Matz ~ January 3rd, 2013. Filed under:
Matz on Sports
.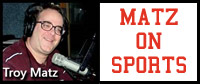 Wrestling: Badger North-Reedsburg at Baraboo 7:30 PM, Baraboo will be wrestling their first conference dual this year after a December 21st postponement with Sauk-Prairie, Baraboo got top eight individual finishes from Sophomore's David Gale and Trevor Hanson at last week's Bi-State Invite with Gale having lost only three matches so far. Baraboo lost to state ranked Lodi in their only previous dual meet this season. Reedsburg is 0-2 in the conference with losses to Mount Horeb-Barneveld 34-31 and Sauk-Prairie 46-26 but the Beavers won five duals and the team title at the Eau Claire Memorial Invite a week ago with Nate Erbs, Mack Bautch, Nick Noye and Nick Sieber all going unbeaten on the day. Reedsburg upest Baraboo last year in Reedsburg and the two square off tonight at Baraboo High School at 7:30 PM. It's take-down cancer night as well for the Baraboo wrestling program with some special fund raising efforts going on to support Jeff Thompson and family that will be recognized tonight and Saturday during the Baraboo Invite as well. You can listen to tonight's dual with Mike Mc Gann and Eric Hanson on 99.7 FM and AM 740-WRPQ Radio with coverage just before 7:30 PM with the TV replay Saturday at 8 AM on My Family TV/43!
Sauk-Prairie at Waunakee 7:30 PM-Sauk is 2-0 in the conference with lopsided wins over Reedsburg and Portage and the Eagles placed seventh at the Mid-States Invite at UW-Whitewater last week with Caleb Sisbach, Austin Powell, Jared Schaaf and Brandon Sprecher earning top five individual finishes. Waunakee is 0-1 in Badger North. Sauk also hosts the 18-team Eagle Invite on Saturday.
Portage at Mount Horeb-Barneveld 7:30 PM-Portage is 0-3 in the conference dual season and in last place while the Vikings are in first place with a 3-0 league mark.
South-Central Conference-Wisconsin Dells at Adams-Friendship, The first round of conference duals in the SCC was wiped out due to weather so this is the conference opener for both squads. Dells competed at the On The Water Tourney in Oshkosh last week with John Mor having the most individual success. Adams had three fifth place wrestlers in D-2 at the Bi-State last week.
Westfield at Nekoosa
Wautoma at Mauston
Boys Basketball: Badger North-Portage at Sauk-Prairie-Portage is 1-1 in the conference with a victory over Baraboo and a loss to De Forest and the Warriors are 3-5 overall with a two-game losing skid. Sauk is 2-2 in league play with wins over De Forest and Baraboo with losses to Mount Horeb and Reedsburg and the Eagles are 6-4 overall after winning the Barneveld Tourney last week with wins over Belleville and Evansville. Sauk won a game in high scoring fashion and one in a los scoring game and the Eagles have featured four players that have been consistent threats to score in double figures with Coach Tim Marshall also noting his team's improved defense. Those in the Sauk-Prairie area can see the game live tonight on the Sauk-Prairie Eagle Sports Network at 7:30 PM.
Scenic Bluffs Conference-Royall at Wonewoc-Center in a make-up game from a December 20th postponement. Royall is 3-0 in the conference but the state ranked Panthers have lost two in a row outside the league with Wonewoc-Center 1-2 in the conference and 3-6 overall.
Girls Basketball: Scenic Bluffs Conference-Bangor at Hillsboro, Hillsboro is 0-2 in league play with OT losses to New Lisbon and Royall and the Tigers are 4-3 overall after a win over Riverdale and a loss to Seneca last week in holiday tournament play. Bangor is 2-7 overall but 2-1 in the Scenic Bluffs.
Wonewoc-Center at Royall-Wonewoc shares last place in the conference at 0-2 while Royall tops the league standings at 3-0.
Brookwood at New Lisbon
Cashton at Necedah
Ridge and Valley Conference-Seneca at Weston, Weston is 1-2 in league play and they lost two non-league games at the Pecatonica Tourney last week. Seneca is 3-1 in league play and 4-2 overall, a contender for the Ridge and Valley title.
SWC-Dodgeville at River Valley, River Valley is 3-5 overall after a holiday break loss to Wisconsin Heights and the lady Blackhawks are 0-2 in conference play.
Boys Hockey: Oregon at Baraboo-Portage at 7:30 PM at the Pierce Park Pavillion-Baraboo-Portage is 6-3 overall after winning two of three for a third place finish at the Culvers Cup last week, allowing only five goals in those three games. Oregon is 3-4-2 overall and in the bottom half of the Badger South standings early on. Baraboo's coop also goes to Stevens Point Pacelli Saturday.