by Matz ~ December 29th, 2012. Filed under:
Matz on Sports
.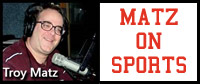 Girls Basketball: Baraboo 70 Richland Center 42-Emily Brinker scores 23 points while Isabel Schmelzer scores a season best 12 points and Mikayla Tunrer a season best 10 for Baraboo who built a 30 plus point lead in the second half en route to going 7-0 on the season.
Reedsburg 36 Waterford 29-Beth Maenpaa scores 16 points for the 5-1 Beavers who nailed 11 of 17 free throws in the win.
Portage 54 Wisconsin Dells 30-Jayne Hurd nails four three-point goals en route to 16 points for Portage while Freshman Caitlyn Hibner scores 14 for 2-6 Portage. Dells falls to 4-5 and they scored only eight first half points.
River Ridge 38 Weston 13 at the Pecatonica Tournament third place game
Boys Basketball: Lake Geneva Badger 67 Baraboo 58-Baraboo scores a season best 58 points but still falls to 1-7 with a sixth straight loss. Ty Schlichtmann scores a career high 21 points including three three-point goals for Baraboo.
Reedsburg 57 Adams-Friendship 28-Sam Peterson scores 14 points to lead Reedsburg, now 6-2 with three straight wins. Adams scored only nine first half points.
Wisconsin Dells 72 Portage 63-Dells improves to 10-0 getting a combined 46 points from Shane Wimann and MJ Delmore. Dells converts eight three-point goals, four from Delmore. Portage makes ten three-point shots including five from Ian Taylor who scores 15 points with Daniel Beck adding 13 for the 3-5 Warriors.
Sauk-Prairie wins 44-40 over Evansville to win the Barneveld Tourney title-Tanner Leister scores 12 and Simon Breunig 10 for the 6-4 Eagles in the win.
Waupaca 52 Royall 45 at the Auburndale Tournament
Boys Hockey: Monona Grove 3 Baraboo-Portage 2 at the Culvers Cup in Madison-Baraboo falls to 5-3 overall and will play in the third place game of the tourney Saturday at 6 PM at Hartmeyer
Reedsburg-Wisconsin Dells 3 Beloit Memorial 1-Sean Teske and Zach Clisch with one goal and one assist each and Michael Olson makes 18 saves for 7-4 RWD who will play BeaverDam Saturday at 12:30 PM in the 3rd place game of the Monk's Cheeseburger Classic at Poppy Waterman Arena in Lake Delton.
Menominee 3 Sauk-Prairie Coop 2 at the Spooner Holiday Tourney-Luke Mc Elhenie and Ryan Fitzsimmons score goals in defeat for Sauk who will play in the 3rd place game Saturday.
Girls Hockey: Arrowhead 4 Badger Thunder 2 at the Culvers Cup in Madison-Spencer Natzke and Kathryn Vander Schaaf scored goals for the 2-8 Thunder who play Point-Rapids in the 7th place game Saturday at 8 AM at Madison Ice Arena.
Wrestling: Bi-State Invite at the La Crosse Center-Baraboo 11th in D-1, Mauston 3rd and River Valley 7th in D-2, Weston-Ithaca 6th and Royall 7th in D-3 after day one in team scoring. David Gale has advanced to the semi-finals at 195 for Baraboo.
Sauk-Prairie 7th after day one of the Mid-States Invite in Whitewater-Brandon Sprecher at 160 and Caleb Sisbach at 195 are still alive in the championship bracket for Sauk.
Wisconsin Dells has Max Obois and John Mor still alive at the On The Water event at UW-Oshkosh