by Matz ~ December 8th, 2012. Filed under:
Matz on Sports
.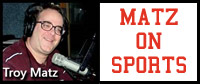 Boys Basketball: Badger North-Baraboo at Portage 7:30 PM, Baraboo is 1-3 overall and looking to rebound from a 55-21 loss to Waunakee Tuesday, the T-Birds are averaging over 20 turnovers per game and under 30 points per game early on, Portage is 1-3 overall with three losses in a row, listen for pre-game coverage around 7:15 PM on 99.7 FM and AM 740-WRPQ Radio with Scott Pionke and Tom Steinhorst.
Mount Horeb at Reedsburg at 2:30 PM, Mount Horeb is off to a 2-0 start in the conference while Reedsburg is 1-0 in the league and 3-0 overall and will be playing their first home game of the year today.
De Forest at Sauk-Prairie at 2:30 PM, Sauk is 0-1 in the conference with a loss to Mount Horeb and they're 1-3 overall with De Forest 0-2 in league play, Sauk fans can see this game live on the Sauk-Prairie Eagle Sports Network.
Wautoma boys face River Valley at 2:30 PM at JAG in Wisconsin Dells in non-conference action with Adams facing Dodgeville at 6 PM at JAG in Wisconsin Dells
Girls Basketball: Wautoma vs River Valley at JAG in Wisconsin Dells at 4:15 PM, Adams vs Dodgeville at JAG in Wisconsin Dells at 7:45 PM
Wrestling: Baraboo and Reedsburg at the Tomah Scramble at 9:30 AM, it's the season opening meet for Baraboo with Kolt Bode and Andrew Thompson returning 20-win wrestlers for the Thunderbirds and this will be Reedsdburg's second tournament and the Beavers are 0-2 in the Badger North dual season.
Sauk-Prairie at the Sun Prairie Invite at 9:30 AM, Sauk won duals over Sun Prairie and Reedsburg this week with the Reedsburg win last night, 46-26.
Wisconsin Dells hosts the Dells Duals at Chula Vista's large indoor facility at 8 AM with nearly 3o teams competing with Portage and De Forest among them, Dells won a dual with Madison La Follette earlier in the weerk and placed third at the Royall Invite last weekend
Weston-Ithaca hosts a dual meet tourney at 9 AM at Weston High School, W-I beat River Valley in a dual Monday
River Valley wrestlers at Bay Port today for an invite
Gymnastics: Baraboo, Reedsburg and Sauk-Prairie all compete in the nine-team Baraboo Invite at 11 AM at Baraboo High School in the first meet of the season, Jordan Laymon is the only returning starter for coach Tammy Porter in Baraboo with Tommie Brenner leading a veteran group for coach Donna Stevens in Reedsburg as a returnin State qualifier last year as a freshman.
Boys Swimming: Baraboo and the Sauk-Prairie-Wisconsin Heights boys swim team are at the Fort Atkinson Invite today at 10 AM
Badger Thunder girls hockey is 0-5 overall and will host Appleton West at the Pierce Park Pavillion today at 4 PM.