by Matz ~ December 7th, 2012. Filed under:
Matz on Sports
.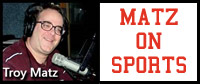 Long-time rivals Baraboo and Reedsburg square off tonight in Badger North girls basketball from Baraboo High School and you can hear the game live on 99.7 FM and AM 740-WRPQ Radio! Both teams are 1-0 in league play and overall with Baraboo winning big at Sauk-Prairie last weekend while Reedsburg pulled out a hard fought win over Portage. Three returning all-league players will be on the floor tonight as well in Sam Terry and Emily Brinker for Baraboo and Beth Maenpaa for Reedsburg. It's also a special night at Baraboo High School with a "Shoot Down Cancer" event taking place with monies raised going to support Jeff Thompson and family in Baraboo. T-Shirts are being sold at Baraboo High School for the next several weeks at ten dollars apiece with several buisnesses contributing sponsorship, there will be bucket raffles throughout the evening and fans can purchase a ticket for five dollars apiece or three for ten dollars that will give the ticket holder a chance to win a 2013 Ford Focus auto donated by Glacier Valley Ford. The holder of the ticket drawn must make a lay-up, free throw, three-point shot and half-court shot within 25 seconds to win the car and this contest will take place following the game. Join Scott Pionke and Kristi Feld for pre-game coverage around 7:15 PM with game time set for around 7:30 PM on WRPQ Radio and you can see the TV replay at about 9:30 AM tomorrow following Barabpo vs Waunakee boys basketball at 8 AM on My Family TV/43!
The Baraboo boys basketball team will play at Portage Saturday night at 7:30 PM and you can hear that game live with Scott Pionke and Terry Kieck on 99.7 FM and AM 740-WRPQ Radio, your home for Baraboo Thunderbird sports!