by Matz ~ December 6th, 2012. Filed under:
Matz on Sports
.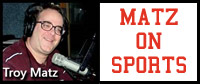 Boys Basketball: Scenic Bluffs Conference-Hillsboro at New Lisbon-Hillsboro is 1-3 overall
Brookwood at Wonewoc-Center
Cashton at Royall
Necedah at Bangor
Girls Basketball: Cassville at Weston-Weston girls are 1-1 with a win over North Crawford and a loss to Wonewoc-Center
River Valley at Platteville in the SWC-River Valley lost to Lancaster in their only conference game and the Lady Blackhawks are 2-2 overall after a loss to Sauk-Prairie Tuesday, this will be the first league game for Platteville
Wrestling-Royall at Hillsboro in the Scenic Bluffs
UW-Baraboo Sauk County men's basketball loses 69-48 to UW-Rock County Wednesday at the Lange Center with Jacob Nachtigal scoring 25 points with seven rebounds in the loss for the 1-5 Fighting Spirits who have now dropped five in a row.