by Matz ~ December 1st, 2012. Filed under:
Matz on Sports
.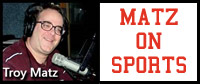 Boys Hockey: Stoughton 3 Baraboo Coop 1-Baraboo suffers their first loss of the season with TJ Laux scoring the lone goal for the Baraboo Coop who is now 2-1 overall, Sean Mc Cutchin had 30 saves in net.
Girls Basketball: Badger North-Reedsburg 42 Portage 35-Beth Maenpaa scored 19 to lead Reedsburg to victory in their first game of the season, Freshman Caitlyn Hibner scored eight points to lead Portage who is now 1-2 overall, Portage did not make a three-point goal in the contest.
South-Central Conference-Westfield 60 Wisconsin Dells 47-Dells loses their SCC opener in a game that featured 46 fouls and 66 free throw attempts, Hunter Hickey scored 11 to lead a balanced attack for the Dells girls, now 1-2 overall.
Nekoosa 63 Mauston 39-Lexi Brost scores 22 for Nekoosa and Carly Johnson 16 for Mauston
Adams-Friendship 41 Wautoma 27-Wautoma scores jurst ten first half points and converts only one of nineteen free throw attempts
Ridge and Valley Conference-Weston 37 North Crawford 33
Boys Basketball: Lodi 67 Portage 48-A 37 point second half propels Lodi to victory with Daniel Beck scoring 13 for 1-2 Portage who will be without last year's leading scorer Adam Considine for the rest of the season with a torn ACL knee injury.
Cassville 67 Weston 26-Weston was down 37-12 by halftime, falling to 0-3 for the young season, Sawyer Schmitt scored 11 for Weston
Southwest Wisconsin Conference-River Valley 48-34 over Lancaster-Adam Mueller scores 12 and Tayt Carraway 11 for River Valley who led 23-5 at halftime.
Dells Ducks lose 5-3 to the Edina Lakers in the Minnesota Junior Hockey League.