by Matz ~ November 29th, 2012. Filed under:
Matz on Sports
.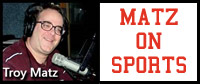 Boys Hockey: La Crosse Aquinas Coop at Sauk-Prairie Coop 7 PM-The Sauk group is 1-2 overall with a win over Marshfield and losses to West Salem and Tomah. The Sauk squad has allowed six goals per game but the good news is they've scored five per game and Luke Mc Elhenie has two hat tricks already in three games. The Sauk-Prairie Coop also plays at Monona Grove Saturday afternoon.
Reedsburg-Wisconsin Dells boys hockey travels to Sparta tonight for a 7 PM game. RWD improved to 3-1 overall Tuesday with a come from behind 7-4 win over Madison Memorial, scoring the final six goals of the contest with Jordan Bill scoring three of them. RWD also rallied from a 3-1 defecit in the final period to defeat Stoughton last week and they've scored three goals or more in each game this season. The Sparta Coop was trounced 9-0 by Baraboo-Portage on Tuesday.
Girls Hockey: Badger Thunder at Sun Prairie at 7 PM in the Badger Conference-Thunder has started the season 0-2 with a 6-3 loss to Black River Falls and a 5-0 conference loss to the Metro Lynx on Tuesday. Sun Prairie is the defending Badger Conference champ but they are off to an 0-3 start this season.
Girls Basketball: Sauk-Prairie opens the season at home vs Richland Center-Coach Bob Marquardt looks to three-year starter Georgia Breunig to lead the Eagles to improvement from a three-win season last year with Lindsay Sauer, Carly Marx, Jorgen Fox and Alexa Henderson other top returnees and freshman guard Ali Roach also will have an impact. It's still a young Eagles squad with four Sophomores, a Freshman, four Juniors and only two Seniors on the roster. Richland Center opened with a six-point loss to Cuba City on Tuesday. The Sauk girls also host Baraboo in the Badger North opener live on the Sauk-Prairie Eagle Sports Network and 99.7 FM and AM 740-WRPQ Radio!
Boys Basketball: Reedsburg at Mauston-The Beavers opened the season with a 75-61 victory at Viroqua Tuesday led by a 32-point explosion from Capreace Salinas with two others in double figures while the Beavers enjoyed a huge rebound edge as well. Mauston has played four games already,  including two in Springfield, Illinois, with a 3-1 record and Senior Joel Heesch returns as one of the State's top scorers from last year and he has 14 points or more in all four games and the Golden Eagles also have an early season win over Viroqua.
New Lisbon at Adams-Friendship-Adams is 0-2 with a lopsided loss vs Tomah and a ten-point setback to River Valley on Tuesday.
La Farge at Wonewoc-Center
Wrestling: Black River Falls at Royall
UW-Baraboo Sauk County Men's Basketball loses 87-48 at UW-Waukesha County Wednesday with Jacob Nachtigal scoring 14 and Logan Dredske 10 for the 1-4 Fighting Spirits who have now lost four in a row.