by Matz ~ October 27th, 2012. Filed under:
Matz on Sports
.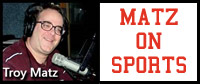 The Reedsburg Beavers had their best finish in the past few years in Badger North boys cross country this fall as Coach Casey Whitehurst's squad placed fifth and the squad's award winners have been announced for this year. Freshman Mike Harshbarger wins the Most Improved honor with Senior Joey Doty Junior winning Most Dedicated honors. Bailey Crary wins the Coaches choice award, Freshman Calvin Moon Rookie Of The Year and Senior Thomas Gillis was named MVP for 2012.
Coach Nicole Bruer's Reedsburg girls cross country squad placed 6th in the Badger North meet with Hanna Buelow winning Most Improved, Freshman Morgan Schyvinck Rookie Of The Year, Junior Demi De Block Coaches Choice, Senior Katie Ratajczyk was the team Captain with Sophomore Loren Tock Most Dedicated Runner and the MVP for 2012.