by Matz ~ October 26th, 2012. Filed under:
Matz on Sports
.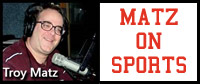 All four Badger North teams that reached the state high school football playoffs were victorious last weekend in Level One and all four play tonight as Level Two action gets rolling with Reedsburg hosting Monona Grove tonight at Millenium Field in D-3. Reedsburg trailed 10-7 against Madison Edgewood last week with less than two and a half minutes remaining and proceeded to go 93 yards for a game-winning TD drive, scoring on the final play of the game to win it. Sophomore QB Austin Schyvinck completed nine passes on the drive for over 90 yards and threw for 151 yards in the game, giving Reedsburg the most balanced offense in a game in recent memory. The Beaver defense also deserves credit, limiting a dangerous offensive unit for Edgewood to just two scores and only one TD. The 6-3 Beavers were on the road in week one of the playoffs so they now host 8-1 Monona Grove, the Badger South champions, tonight who are coming off a blowout win 57-7 over Wisconsin Dells last week. MG lost to Waunakee 45-38 in week one and have not been seriously challenged since, allowing less than 10 points per game over the last eight games while scoring over 39 per game in that stretch and opponents have run for only 63 yards per game on the season. It's a talented team for MG including future UW Badger Jaden Gault, one of the top lineman in the State.  James Conner has rushed for over 1100 yards for MG offensively. Tonight's winner in the 7 PM game at Millenium Field will face Mount Horeb-Barneveld or Mc Farland next weekend in Level Three.
Mount Horeb-Barneveld rolled over Monroe last week and the Badger North runners-up now head out on the road to face Mc Farland in the second round. MHB improved to 8-1 with a 41-6 win over Monroe last week with 213 yards rushing while Mc Farland went on the road and won big 34-7 over Evansville-Albany to improve to 6-3 for the season. Kale Pustina has thrown for close to 2000 yards this season to spark the Mount Horeb-Barneveld offense. This is the fourth meeting in five years in the playoffs between these teams with MHB winning two of the previous three.
Long-time Badger North rivals square off tonight in Level Two of the D-2 playoffs with Waunakee at De Forest at 7 PM. Waunakee has won 45 games in a row and the last three D-2 State titles but they struggled last week before pulling away in a 28-7 win over Wilmot while De Forest brings a record of 7-2 into the game tonight and with a six-game win streak including a 38-14 win over Fort Atkinson. The Norskies lost standout RB Omar Reed in the game with an injury but Lucas Miller filled in nicely and QB Kyler Jilot had a big passing game as well. Waunakee QB Will Decorah also threw for 189 yards a week ago and in the regular season, Waunakee rallied from a 14-0 defecit to win 24-14, taking advantage of some De Forest mistakes. The winner gets Watertown or Waukesha West next week in Level Three.
River Valley will tangle with SCC champion Nekoosa on the gridiron for the second time this season tonight in Level Two playoff action in D-4 in Spring Green. 8-1 River Valley won 20-14 over Nekoosa in week two of the season and the two meet again tonight with River Valley coming off a 48-0 win over Wautoma while 6-3 Nekoosa won 44-6 over New Glarus-Monticello. Codey Ysquierdo of Nekoosa and Seth Liegel and Jack Radlinger of River Valley all have rushed for over 1000 yards this year.
Hillsboro takes a 7-2 record into a home game tomorrow afternoon against 7-2 Cochrane-Fountain-City at 4 PM in Level Two of the D-7 football playoffs. Hillsboro reached the 50-point total for the second time this season last weekend, rolling 50-14 over De Soto with nearly 400 yards of rushing as Brandon Stanek and Max Sebranek both went over 100 yards. C-F-C, the second place team in the Dairyland Conference, got by NewLisbon 18-14, rallying in the second half for the win. C-F-C QB Kale Lisowski has thrown for over 1300 yards this year. Fans can see the TV replay of this game Sunday night at 5 PM on My Family TV/43 with Troy Matz and Greg Zimmerman!
D-6 action on Saturday shows Kickapoo-La Farge hosting Iowa-Grant Saurday at 7 PM and Necedah will play at Darlington Saturday at 3 PM.